The Welcome Guide
Pocket Lists is a to-do list app that is aimed to provide the world's friendliest to-do list making experience. The design of Pocket Lists is inspired by the real life habit of making paper lists of things and keeping them in a pocket. Simple and instantly familiar.
Lists
The Lists tab is the primary place to store and organize your to-dos and reminders.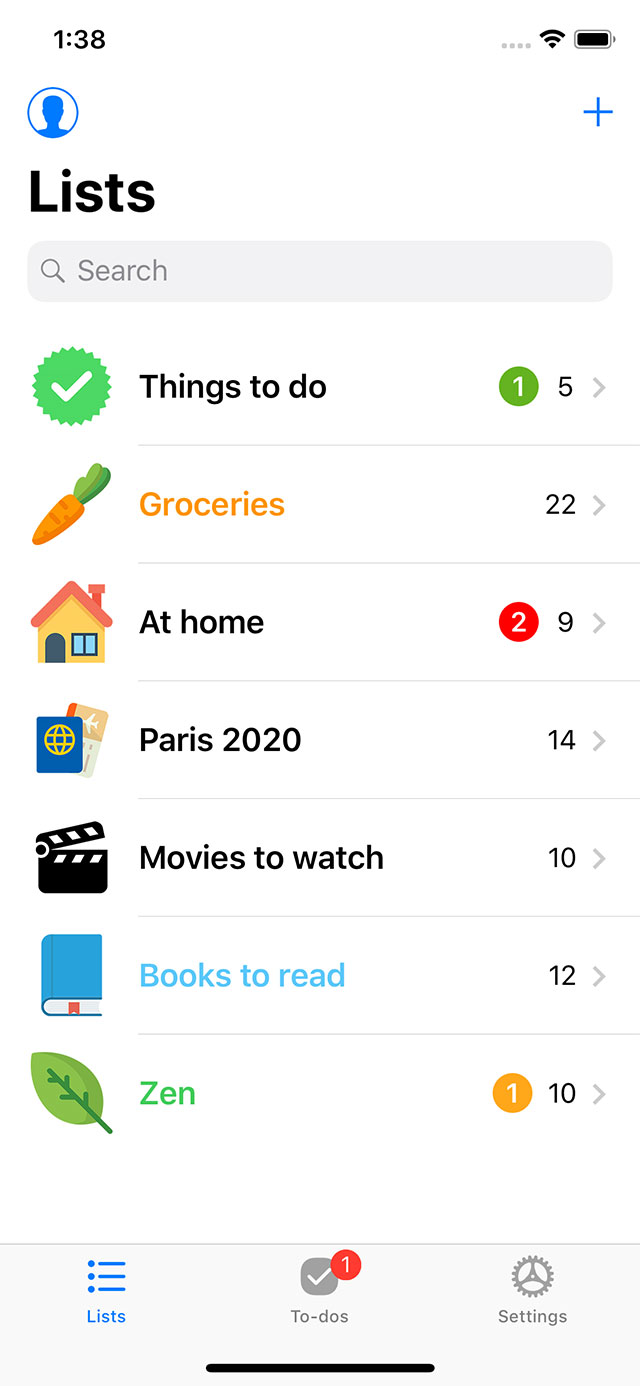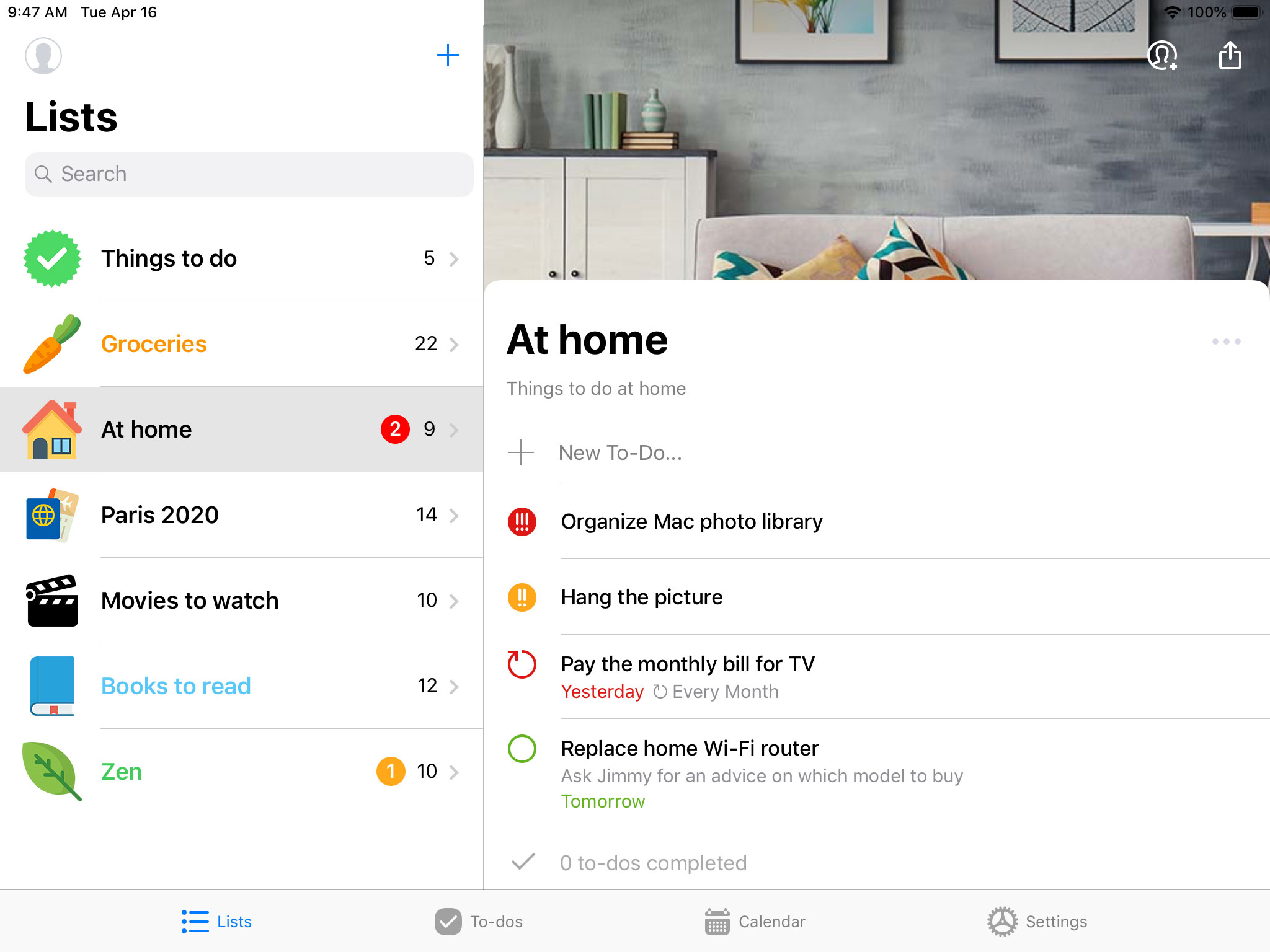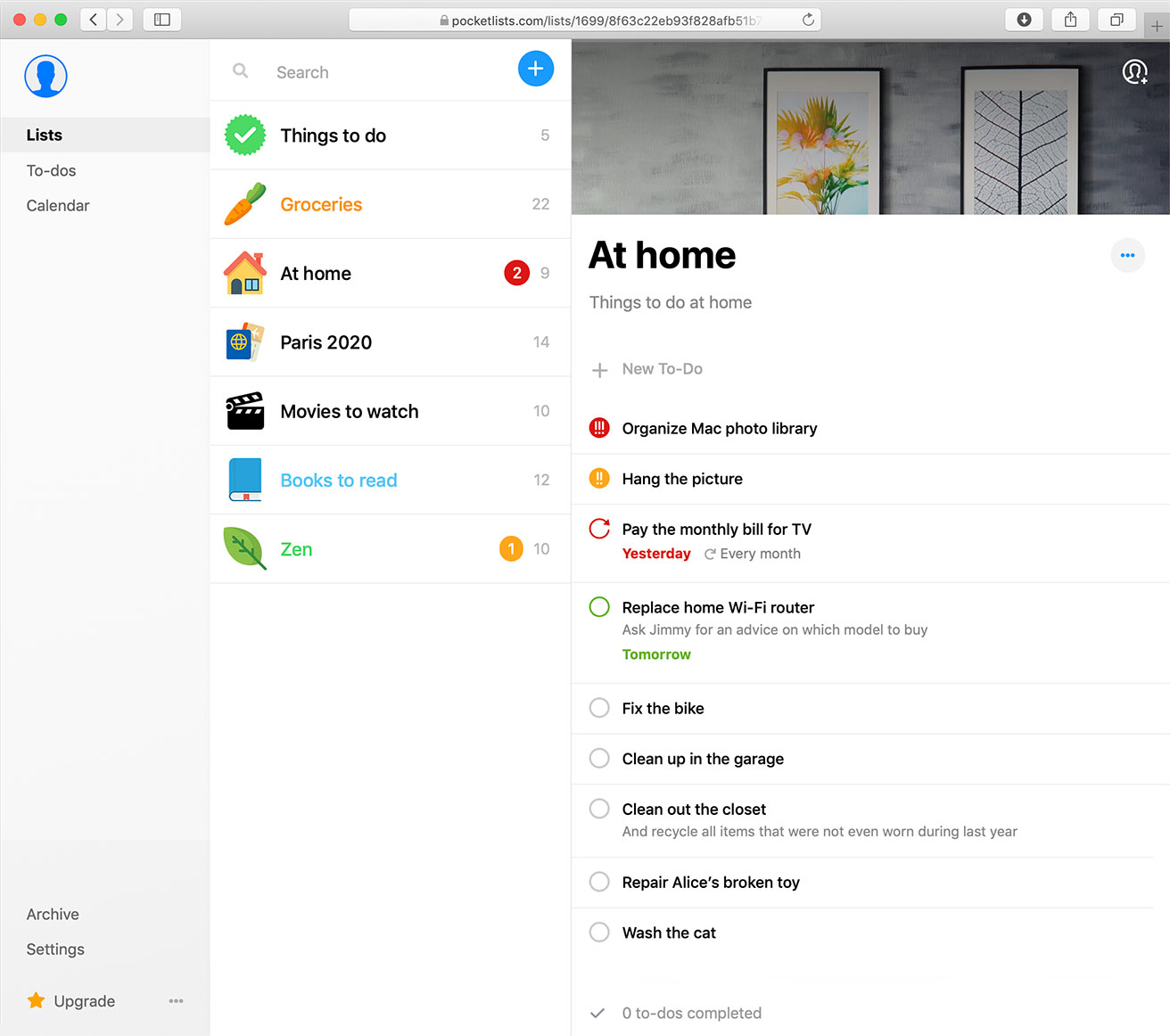 You can make lists the way you want, and the app won't impose you with any predefined lists such as Today, Next Week, Someday, etc. Lists are in your full control, and it's up to you to decide which of them better fit your needs.
Use colors, icons, and cover images to make your to-do lists looks totally cool and personal.
To-Dos
Use To-dos tab is for staying up to date on what you need to do up next.

It acts like a big filter that gathers to-dos among all your lists and presents them according to the selected conditions: Scheduled, High Priority, Nearby, etc.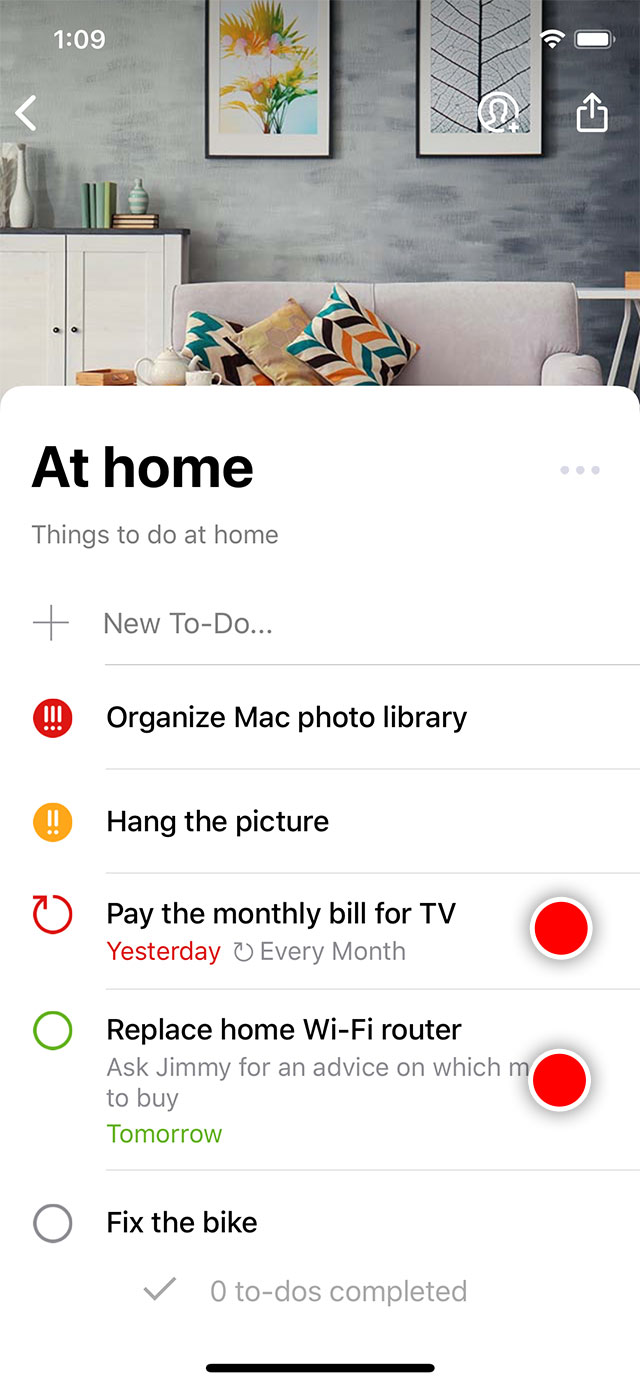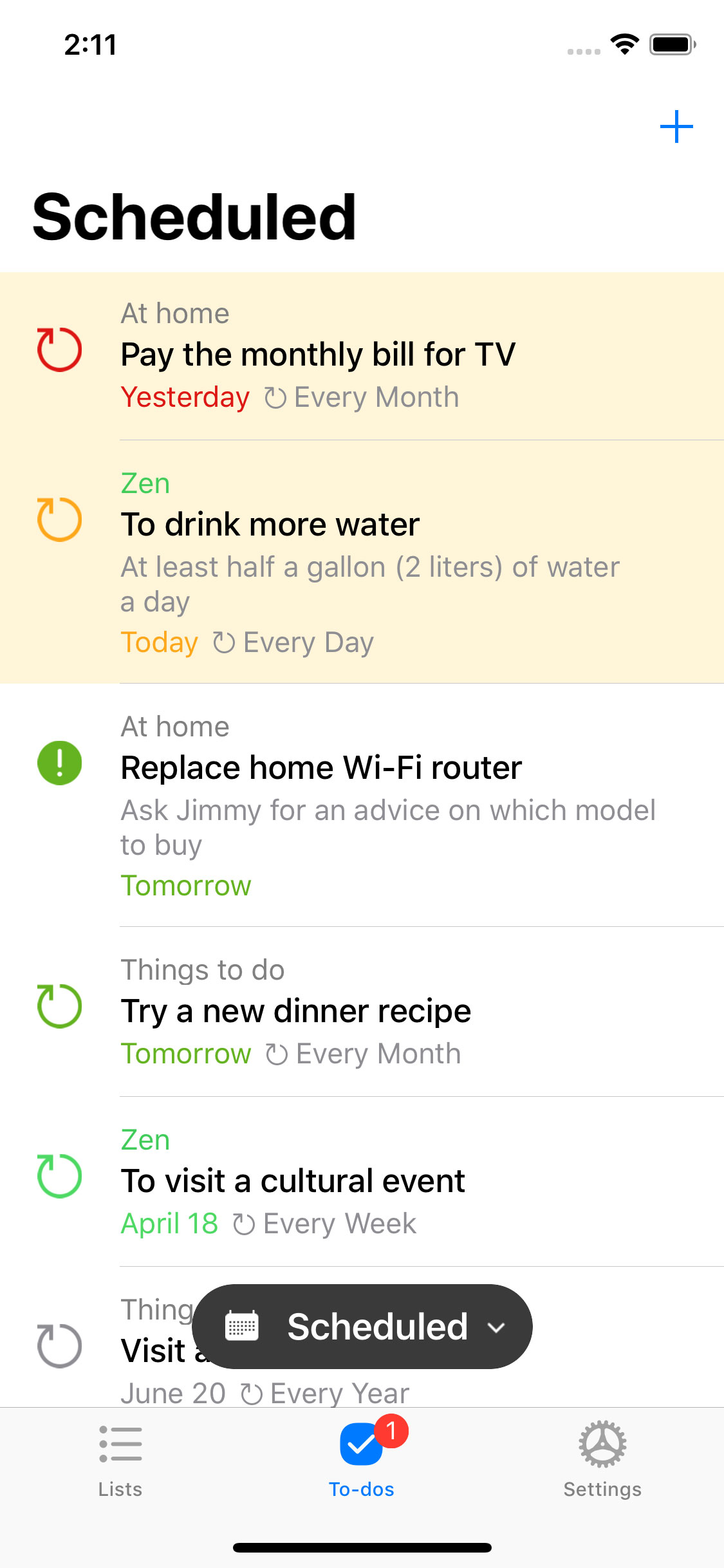 And it's also a great place for adding to-dos not linked with any lists.
Sharing
The Sharing tab is where the collaboration on to-do lists begins. And it's super easy.

Pick a contact > Send Invitation Link > Done!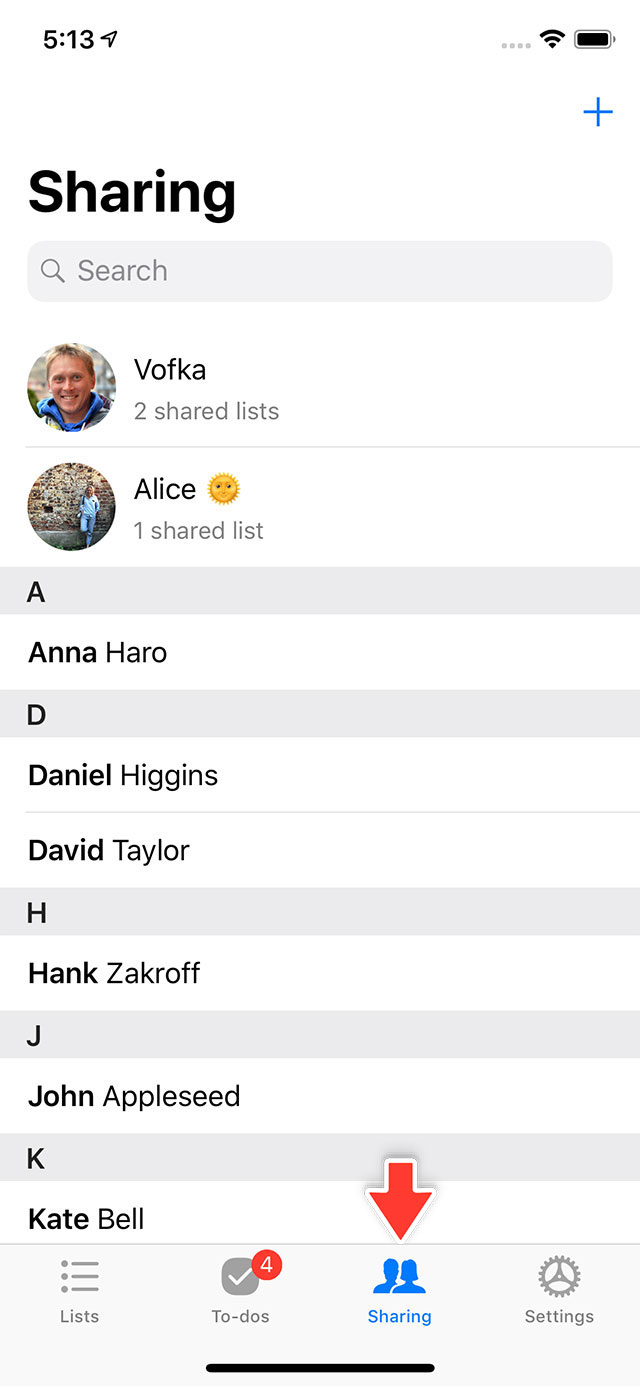 Your friends join the shared list by simply opening the invitation link. No matter if they have Pocket Lists installed or not (the web app works in any browser).
Settings
There is a plenty of useful settings in the app. But the first advisable thing to do is to create your free PocketLists.com account which enables the realtime sync & backup.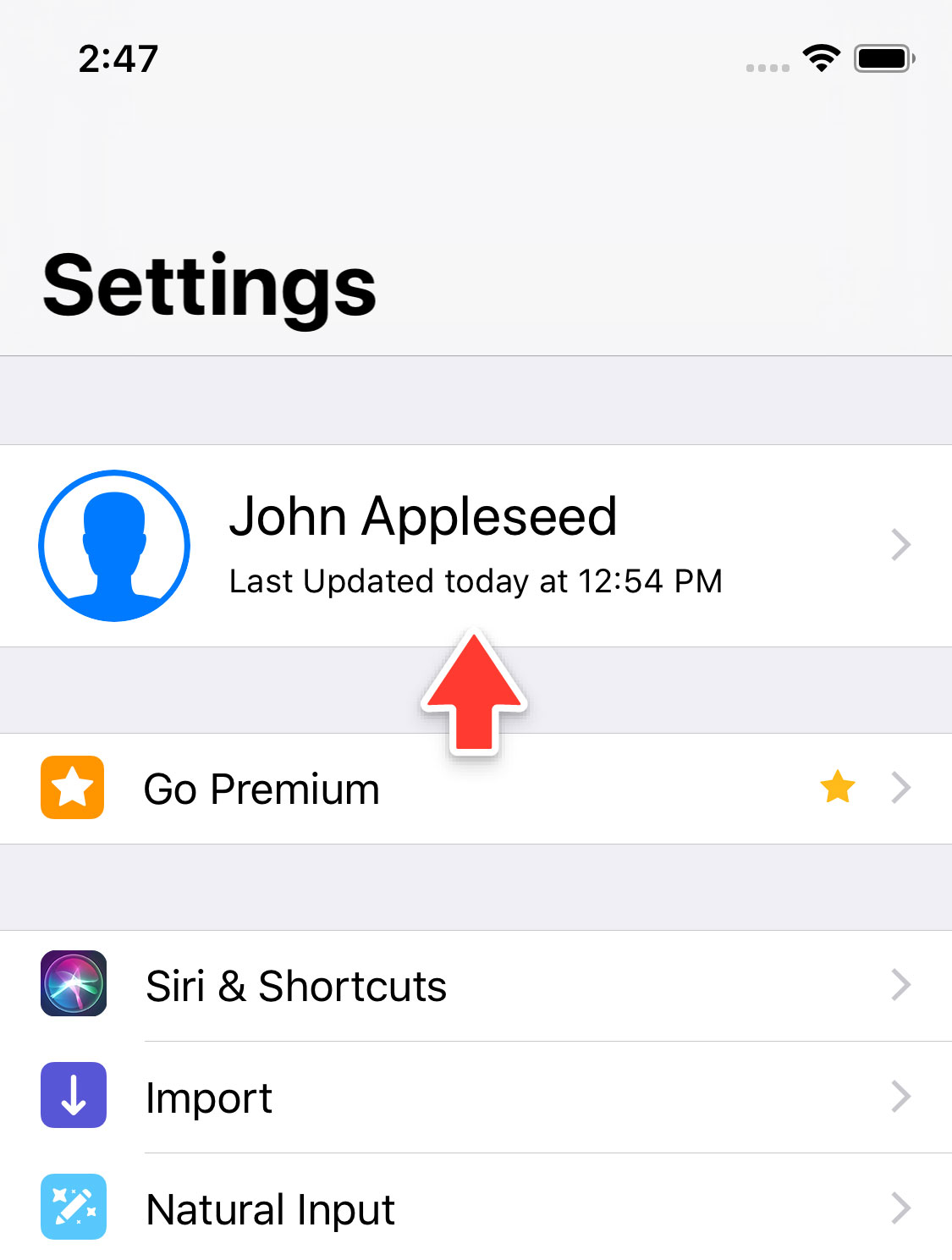 Creating an account will automatically backup all your to-dos in the cloud so nothing will be lost in case you uninstall the app or loose access to your device for any reason.
Signing in with your PocketLists.com account on multiple iPhone & iPad devices will automatically sync your data between all the devices.
The cloud sync is absolutely free to use.
---
Pro Tips & Tricks
Now is the fun part. A list of cool features and tips that will help you to start using Pocket Lists like a pro.
Natural Input: set to-do reminders by simply typing the due date/time in the to-do name, e.g. 'tomorrow 10am', 'next friday', 'in the evening', 'in 3 days', 'tue at 3 every week', 'december 13', etc. The app will parse the input and set the due date/time automatically.
Shake to re-sort (iPhone only): when inside a to-do list, try shaking your iPhone. This will quickly sort all to-dos by priority, due, and name pushing most import to-dos on top of the list. (This feature can be enabled/disabled in the app Settings > Interface.)
Drag-n-drop sort: hold your finger over a to-do item or a list for a second and re-position it as you like using a simple drag-n-drop.
Swipe gestures: swiping to-do items and lists left to right and vice versa allows you to perform various quick actions: Delete, Move, Postpone, Favorite, Duplicate, etc.
3D Touch: force touch a to-do item to quickly edit its basic details without opening the details screen.
In-list headings: when inside a to-do list, unpinch two neighbour items with two fingers. Unpinch just a few to create a new to-do between them. Unpinch stronger to create a heading (a section).
Copy-and-Paste: add multiple to-dos at a time by pasting a long text. The app will explode the text by lines and commas and will add each element as a separate to-do item.
#hashtags: just like in social media postings. Tag your to-do items by adding #hashtags inside todo names. Filter to-dos by tag by simply tapping a hashtag or by viewing all hashtags in the To-dos screen filter changing baloon.
Starred to-dos: swipe a to-do from left to right to mark it as starred (favorite). Starred to-dos are highlighted with a star instead of a checkbox and fly up to the top of the To-Dos → Scheduled filter.
Calendar: rotate your iPhone to a landscape (horizontal) mode to view all scheduled to-dos in a calendar view.
Archive (hide) lists: to save a particular to-do list for the future and to temporary hide it from an everyday use, simple Archive it. This works similar to deleting a list, but keeps the list safe in the app until the day you need it.
iOS Today widget: stay up to date on what's up next using the Today widget. Simply add the widget in the iOS Today View.
---
Web App
Use the web app at PocketLists.com to access your data on your desktop computer. Super handy when you need to quickly make up a list with multiple to-do items and then continue using it on your iPhone on the go.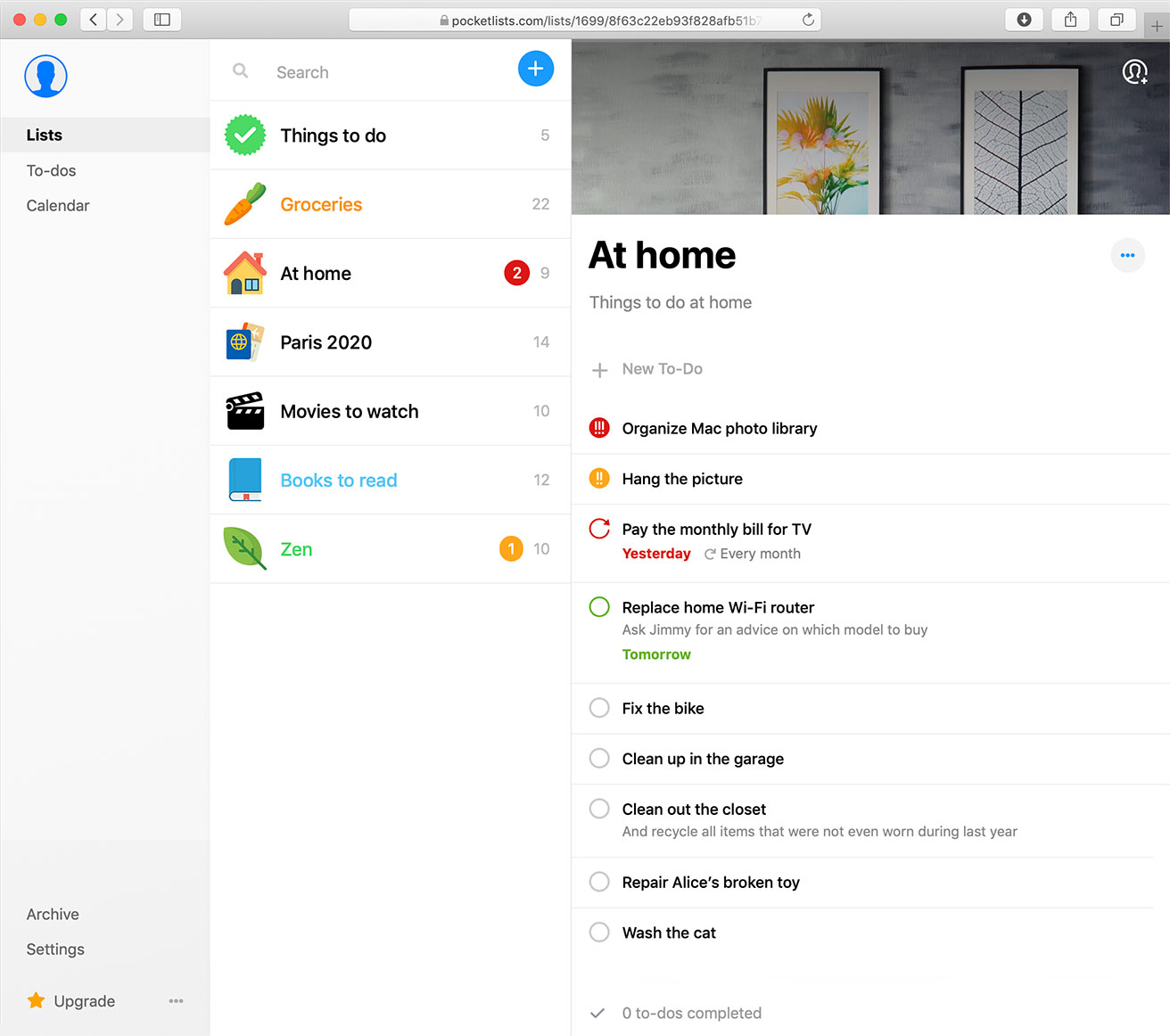 The web app is a part of the premium package (which also enables many cool iOS features such as superpriorities, passcode-protected lists, file attachments, Apple Watch app, etc.). But feel free to test-drive the web app for an unlimited time.
* * *
Happy list making!