Get Help
How do I backup & sync my Pocket Lists app via the cloud?
The sync is performed via the PocketLists.com secure cloud and is fully automated.
Launch Pocket Lists on your iOS device.
Head on to Settings > Sign In.
Either create a new account or sign in to an existing account.
Done! Once signed in, the rest is performed automatically. All you data will be automatically synced and updated via the PocketLists.com cloud.
How do I share a to-do list with friends and family?
To merely send a copy of a to-do list to someone, tap on Export button on top of list. This will send a copy of the current state of the list as simple text.
To invite someone to collaborate on a to-do list, tap on a Add Users button which is just nearby. Tapping this button will generate a secure private link to join the list. Send the link via any suitable channel — email, SMS, WhatsApp, Telegram, AirDrop, or even via publishing the link on a social media.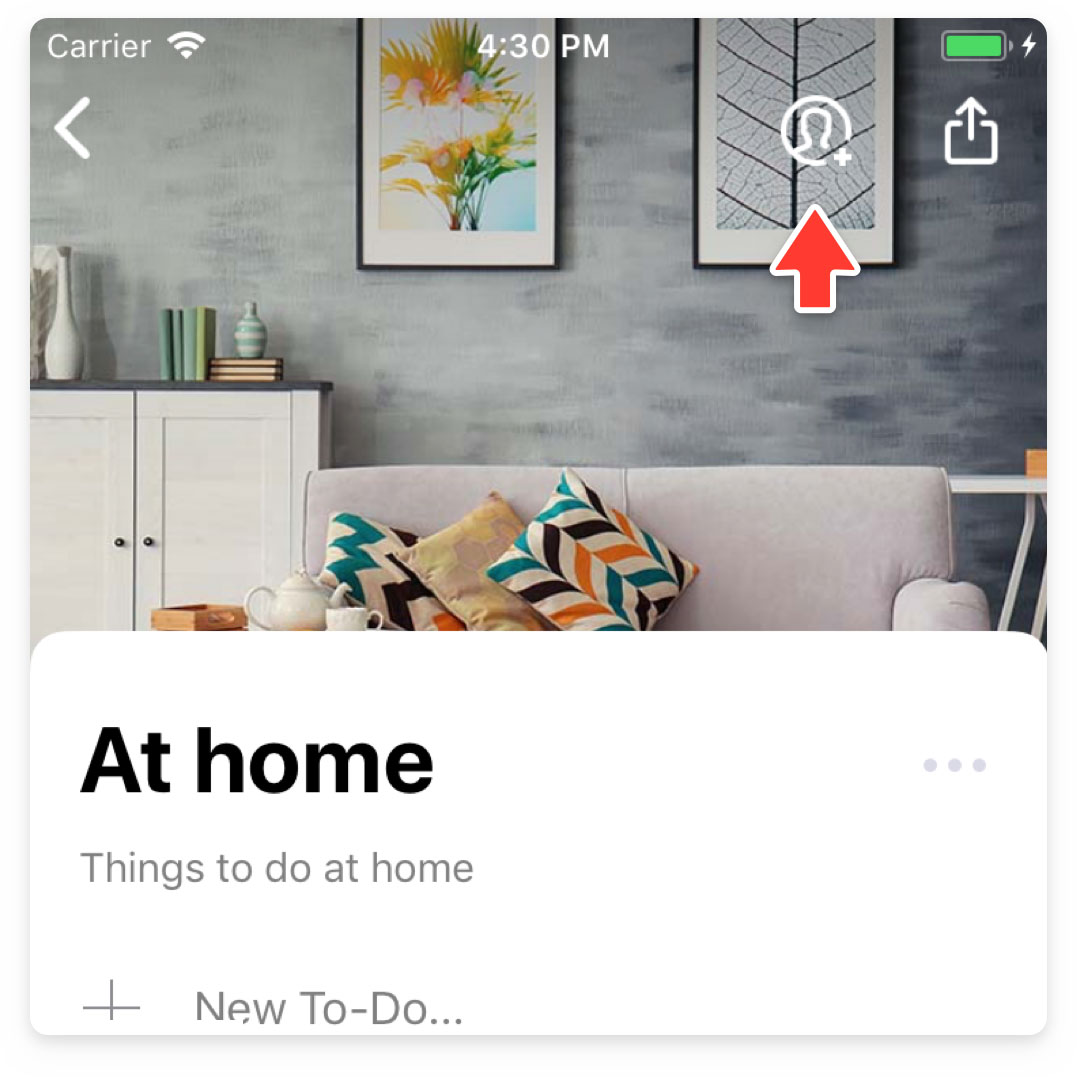 By following the link, the user will be redirected to Pocket Lists app on an iOS device and will join the list automatically.
This invitation link will be active until you reset list sharing settings (e.g. unshare a list with someone).

I've been using Pocket Lists Cloud in the older version of the app (Pocket Lists 1). What happened to my account?
The former version of Pocket Lists Cloud for Pocket Lists 1 were shut down in 2017, and all the data stored in the cloud were been deleted. We have permanently shut down the former version because of inability to scale and improve it along with the Pocket Lists app evolution.
The new cloud PocketLists.com cloud has been written from scratch, and thus you just only need to create your new free account.
How much does the cloud sync cost?
Nothing. Pocket Lists sync between iOS devices is available for free.
In order to keep the development going, we will be rolling out a bunch of premium features available as an optional in-app purchase (e.g. web access via PocketLists.com). But don't worry — a solid base part of the app, the sync, and collaboration will always be free.
Where is my PocketLists.com data hosted?
We process all data via secure HTTPS channel and host everything in the United States. Please read Pocket Lists Privacy Policy for all the details on how we store and process data.
How to sort to-dos?
Sort items inside a list with using a simple drag-n-drop gesture: hold your finger over an item for a second and re-position as you like.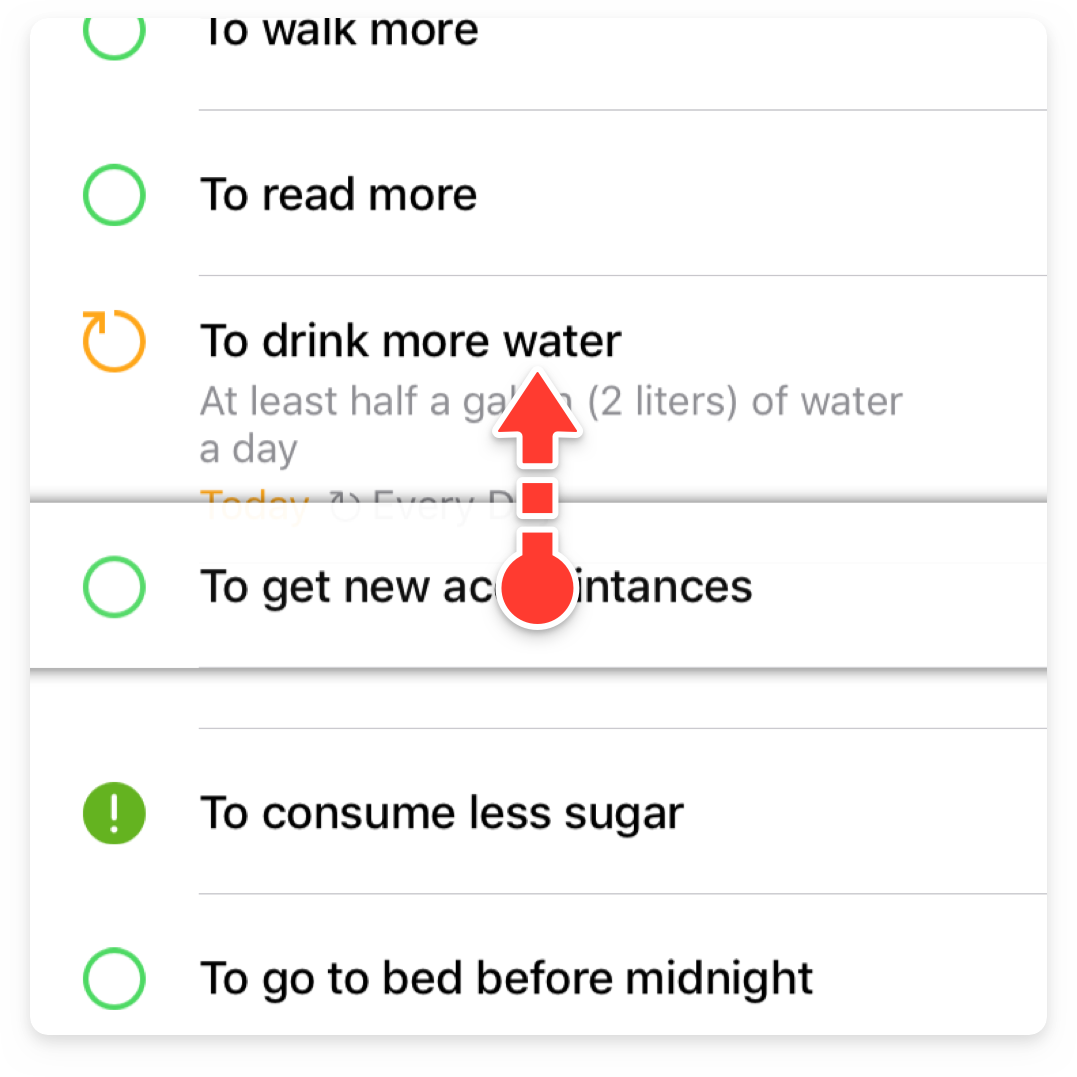 How to add a divider (a section) in my to-do list?
Unpinch two items with two fingers to create a New To-Do between them. Unpinch stronger to create a divider.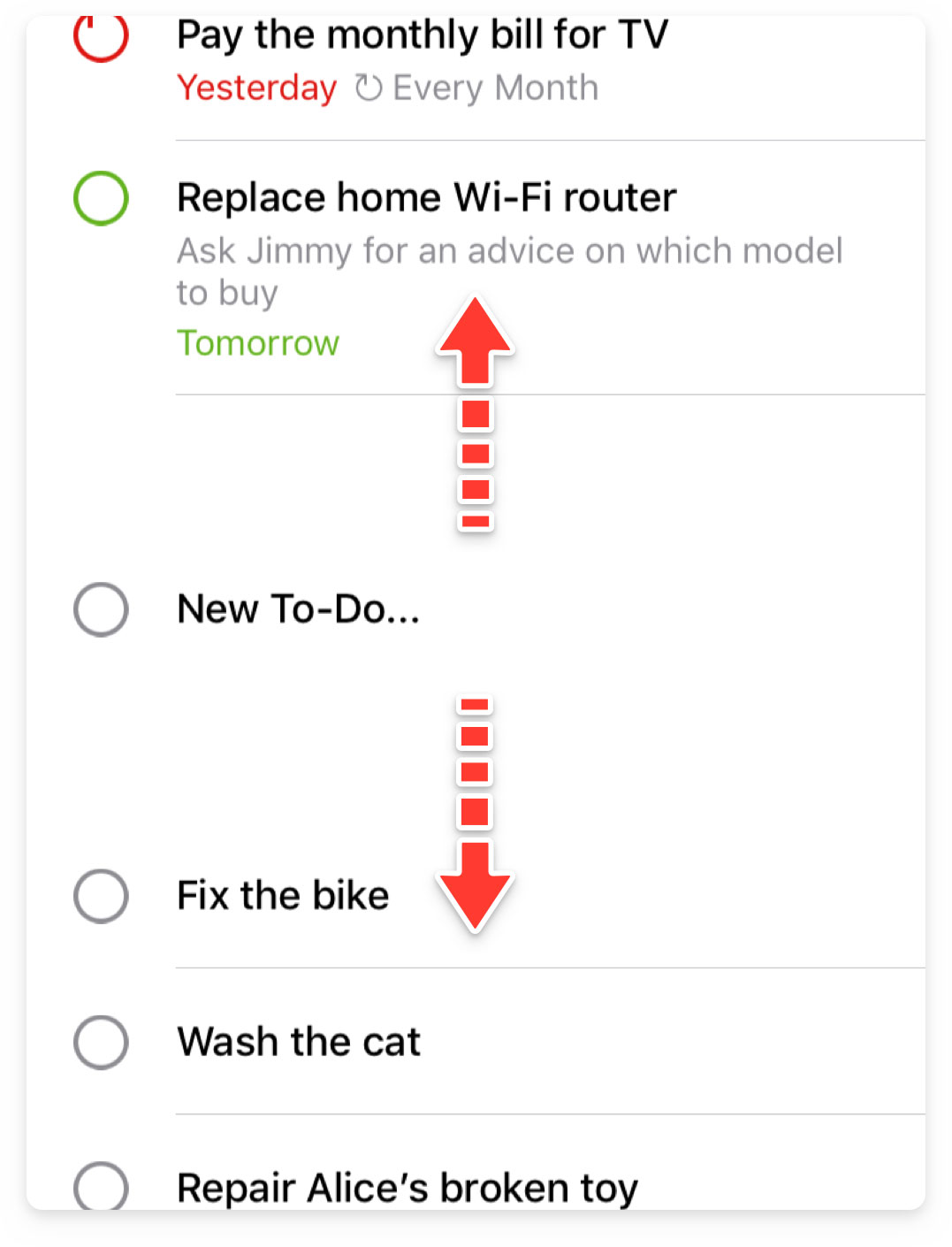 How to mark a to-do items as favorite?
Simply swipe over a to-do from left to right.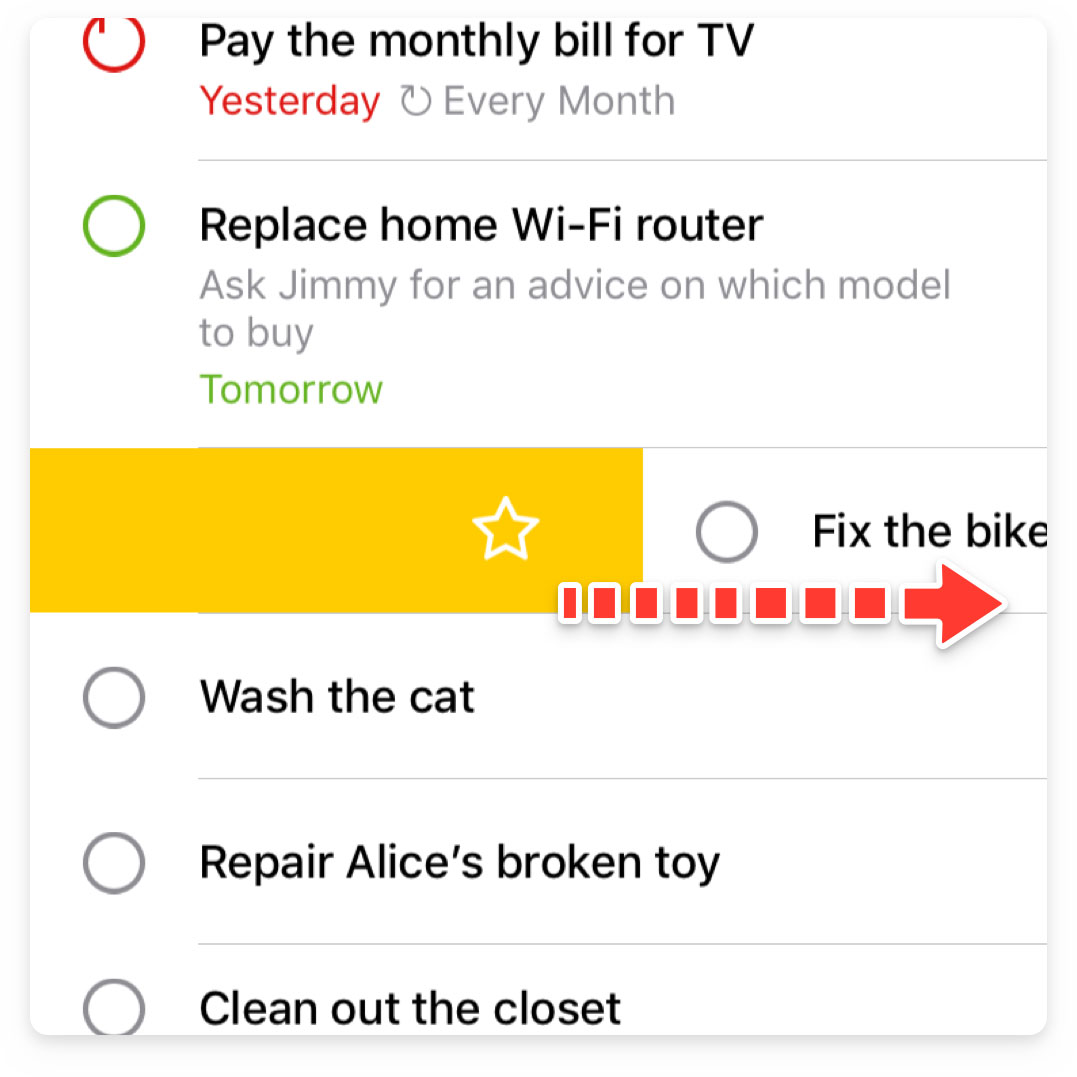 How to delete a to-do the fast way?
Just swipe over a to-do item from right to left: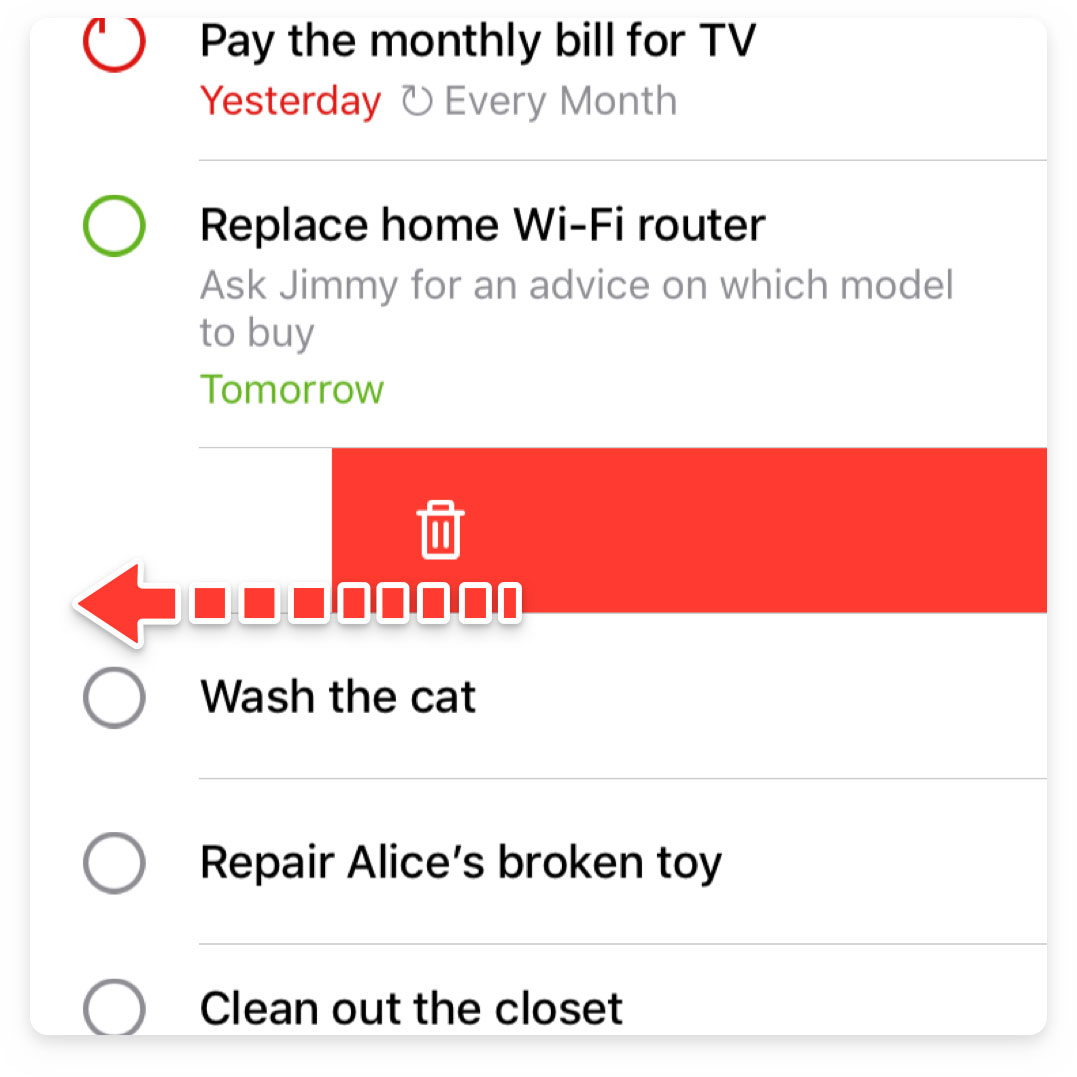 How to move a to-do item into another list?
Simply swipe over a to-do from right to left and tap on a green button: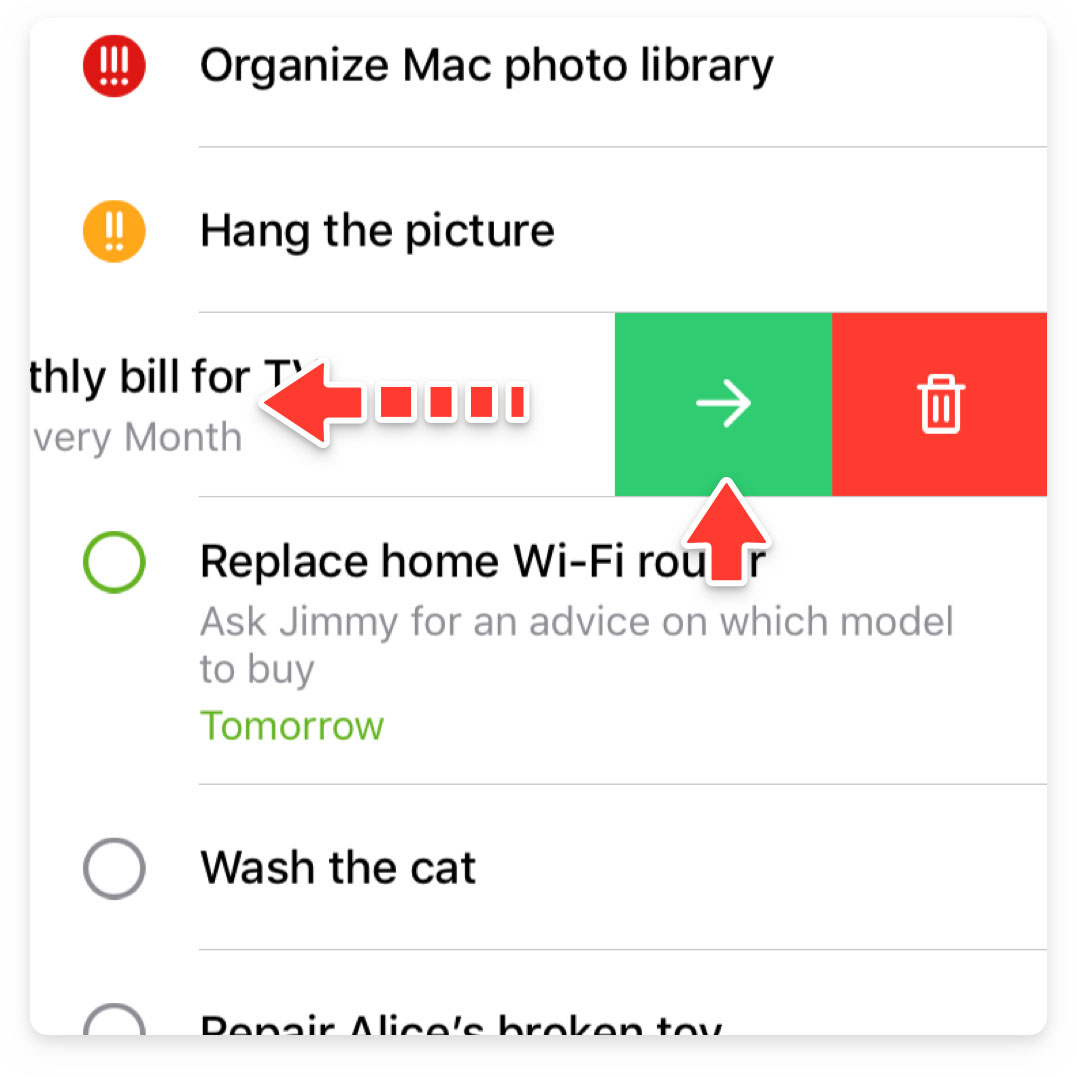 How do I get a refund?
In case you have purchased Pocket Lists premium subscription via your Apple ID, please follow this step-by-step guide to manage your subscription parameters: https://support.apple.com/en-us/HT202039
If the premium subscription was unlocked permanently (with a one-time purchase) via your Apple ID, here is another guide from Apple: https://support.apple.com/en-us/HT204084
For online card payments processed on PocketLists.com website, please contact us at hello@pocketlists.com.
Is there Pocket Lists for Android?
Sorry, but Pocket Lists for Android is not yet available.
Contact Us
We always welcome your feedback and will be glad to hear how to make Pocket Lists fit your daily workflow even better.
Facebook: @PocketLists
Twitter: @PocketLists
Email: hello@pocketlists.com